The following content is translated from Chinese source by machine translation without post-editing.



  In June 2019, through the coordination and advancement of the two sides, TalkingChina and the School of Foreign Languages of Shanghai University of Finance and Economics officially signed a cooperation framework agreement to establish an MTI translation practice base. The construction of the internship base is the basic construction of the university, which is conducive to students fully understanding the society, strengthening the combination of theory and practice, and cultivating students' practical skills.



  On June 27th, Ms. Su Yang, the managing director of TalkingChina and Professor Zhang and the Dean of the School of Foreign Languages of Shanghai University of Finance and Economics signed the on-site signing ceremony. The two sides conducted in-depth exchanges on cooperation models, project practices, and cooperation processes.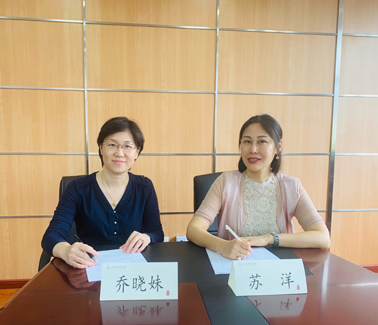 The most important factor in the successful signing of the internship base of Shanghai University of Finance and Economics -TalkingChina is the high matching between the needs and work styles of both parties. Shanghai University of Finance and Economics is a multi-disciplinary national key university directly under the Ministry of Education. It is a national key university with a coordinated development of law, culture and science. It is a key university for the national "211 Project" and "985 Project Advantage Discipline Innovation Platform". TalkingChina is the top ten influential brands in China's translation industry, and CSA2018 is the top 30 language service providers in the Asia Pacific region. The pragmatic and efficient style of both parties and the concept of mutual benefit for partners have enabled the cooperation to advance rapidly.

  In order to let Shanghai University of Finance students master more practical skills in the translation industry, in the future internship and practical work, TalkingChina will send responsible and experienced professionals to guide the students to translate and related work. At the same time, TalkingChina will regularly assist the Shanghai University of Finance and Economics teaching arrangements and give revisions.

  Prior to the School of Foreign Languages ??at Shanghai University of Finance and Economics, TalkingChina has become an internship base for the following schools: Fudan University, University of Shanghai for Science and Technology, Shanghai University of Electric Power, Southeast University, and Zhejiang International Studies University. TalkingChina actively penetrated the universities and promoted the school-enterprise cooperation model. The ultimate goal was to continuously deliver fresh blood to the translation industry and contribute to the flourishing development of the translation industry.