Project Background:
As a global automobile manufacturer of several models, Volkswagen's biggest need is the inter-translation of German, English and Chinese.
Client needs:
Looking for Long-term translation service provider with steady and reliable translation quality.
Project analysis:
TalkingChina made analysis on client needs first. Corpus and terminology database is vital to deliver reliable, steady translations. Volkswagen has been conscientious about documentation work (both the original texts and the translations), which is a precondition for creating corpuses, but some problems are still existing:
1) The so-called corpuses provided by the client are only documents in two languages, which serve no actual function in translation.
2) Even a small part of the documents are in corpus format. But there are inconsistent translations for the same source and mismatch of source and target texts, which devalues the corpus in application.
Without a consistent terminology database, different departments will choose different versions of translation, which is very confusing and undermines the communications quality.
TalkingChina's Solutions:
The flow chart shown below is made according to status of corpus: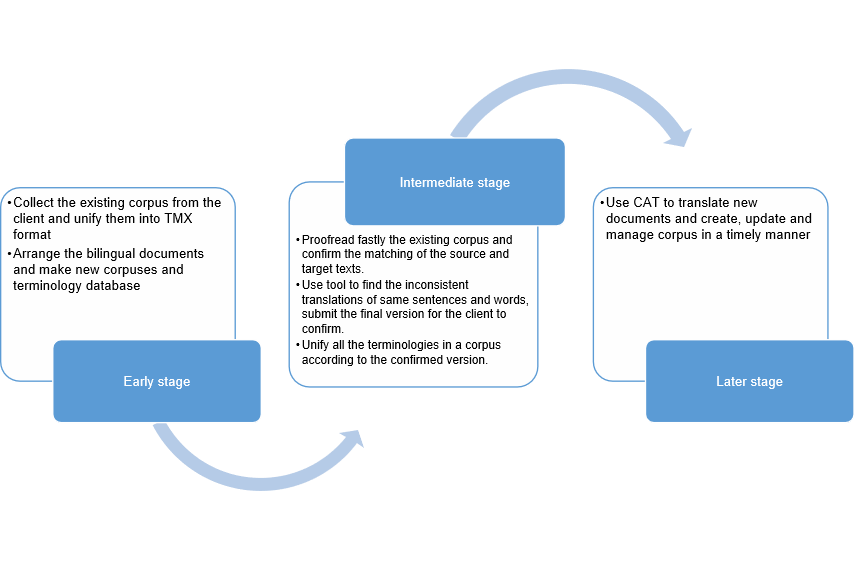 Project Highlights:
1.For the bilingual documents, we use alignment tools and human proofreading to get corpus; for the already existing but disordered corpus, collect and unify them;
2. New translation projects must strictly rely on CAT; build up and manage corpus and terminology database at the same time of the translation projects are going on.
Reflection on and Evaluation of the Project
Effects:
1. In less than 4 months, using alignment tools and manual proofreading, we have processed the bilingual documents and sorted out the confused corpuses, creating a 2 million-word corpus and a terminology data base with hundreds of terms, which laid a solid foundation for following works.
2. The corpus and terminology database instantly become useful references for new translation projects, helping with the translation quality and efficiency and creating values;
3. New translation projects strictly rely on CAT, build up the existing corpus and terminology database and help them to develop.
Reflections:
1. Awareness
Few companies are aware that corpus is an asset. Due to a lack of a specialized documentation and corpus management department, different sections choose different translation suppliers and get different versions of translation, compounding the problems of documentation with inconsistent and scattered translated documents.
The client in the article has the awareness of saving complete bilingual documents and do timely documentation. But without an understanding of the production and technical tools used in translation industry, it cannot fully comprehend "corpus", regarding bilingual documents as mere reference and without a clue of terminology management.
Nowadays, CAT tools have been necessary for translation work, which have memories for the translated materials and automatically identify the repeated part by comparing the new materials with the memories. In addition, the terminology databases can be added to the CAT tools, and there are functions to identify the inconsistencies in the terminologies. It shows that tools and database, like corpus and terminology database, are essential for translation.
So, first and foremost, we need to raise awareness of corpus and terminology management. Realizing their necessity and significance will motivate us to work for it and turn the language assets to good use. It only requires a small investment, but the reward is long-lasting and significant.
2. Methods and implementation
After raising the awareness, what should we do next? Most clients don't have time or expertise to accomplish this work. You could always leave it to the professionals. TalkingChina is a professional LSP who well understands this specific potential need of clients from translation practice and launched the "translation technology service" product, with "corpus and terminology management" included. You can outsource the work of managing and maintaining corpus and terminology to us, and we will effectively manage them for you.
For more benefits, corpus and terminology management better starts earlier. It should be high on the corporate agenda. And highly reusable technical and product-related documents in constant update and consistency-sensitive are the most applicable.